"Fighting To The Finish: The Australian Army and the Vietnam War, 1968-1975"

| | |
| --- | --- |
| Type of post: | Profile news item |
| Sub-type: | No sub-type |
| Posted By: | John Verhelst |
| Status: | Current |
| Date Posted: | Sun, 8 Jan 2023 |
Ashley Ekins with Ian McNeill
---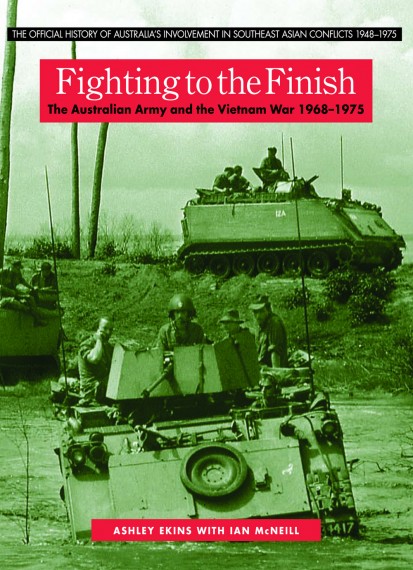 Fighting to the finish tells the story of the Australian Army in Vietnam during the period of Australia's largest and most sustained military commitment to the Vietnam War. As the ninth and final volume of the Official History of Australia's Involvement in Southeast Asian Conflicts 1948-1975, it is the successor to the acclaimed To Long Tan by Ian McNeill, and On the offensive by Ian McNeill and Ashley Ekins.
The product of years of intensive research, Fighting to the finish reveals the experiences of Australian soldiers in Vietnam in a way that has not been possible before. It describes the activities of the Australian Task Force in Vietnam during its peak years, from the middle of 1968 to the end of 1971. The authors had unrestricted access to official government records, including highly classified defence files and operational records. To this they added extensive interviews with participants, personal papers and correspondence, communist Vietnamese histories, and discussions with former Viet Cong and North Vietnamese Army soldiers.
Fighting to the finish covers the Australian involvement at virtually every level, from the senior commanders and planners to the experiences of infantrymen on patrol and in contact with the enemy. It also contains appendices of authoritative information and data on Australian operations in Vietnam, previously unavailable to general readers, which will ensure its value as the principal reference work on the subject for decades.
For Bulk orders of 5 or more a discounted price is available

Click here to go to the AWM Bookstore