OVERVIEW OF THE 2022 CANBERRA REUNION
The 2022 reunion in Canberra has come and has gone. In the words of nearly all attendees –"what a hoot".
We had 103 members and wives/partners, along with widows of three Veterans (Wendy Goodman, Pam Moloney and Diane Dickson) join for four days of action-packed fun. We all remembered that we are all one big close family. Unfortunately, a few members and their wives had to withdraw due to illness. I attach the reunion leaflet that was given to all attendees.
Registration was from 2 PM on Friday 18 November and Helen and her team were kept busy. Some members had brought some memorabilia with them and these were showcased on tables and the walls. Dot Cunningham and her team had the DOT Shop open as a few people had brought items to sell. The Association received many donations in the course of the afternoon from members and we thank them all.
The bar (wine and beer included all weekend) opened about 3 PM and the atmosphere was electric – bearing in mind no person had had a drink at that time – after four years without a reunion Veterans and wives, partners, carers, etc. were just happy to see each other, catching up on lost time. Friday evening was the Barbeque which is the norm for the first night of a reunion.
Our Association meeting was held on Saturday morning and we paid respects to our departed Veteran members, especially Phil Moscatt who had only passed away three days prior to the reunion and had booked to attend with Julia Billows, his partner of many years. RIP Phil.
Due to health problems, Heppy (Rob Hepburn) has retired as WA committee member, his position taken over by Ned Dixon. Welcome Ned, and thank you Heppy – we look forward to you and Beth being with us in 2024. Which brings me to 2024.
The group has decided at our meeting that Adelaide will be our venue for November 2024. It will most likely be Hahndorf in the Adelaide Hills as their Holiday Park has space for us and our requirements. Our SA committee person, Graeme Pulford, and his wife, Rosemary, joined by Helen and myself will visit the Park, and other suggested locations first week of February 2023. We will then share with the membership in our February 2023 Red Rat.
Another reason for Adelaide is that, recently, Graeme, along with myself and Treasurer, Helen, visited the Commemoration Walk of Honour in Adelaide. We saw numerous memorials for Vietnam Vet groups. Subsequently I completed the required forms for the DVA "Saluting their Service" grant and received our required amount of $7300. The idea would be to dedicate our first capital city monument during our 2024 reunion. And this will happen, thanks to DVA.
Saturday afternoon and evening was busy for us all. First, in two coaches, to Duntroon House, Officers Mess of the Royal Military College where the Commandant had invited us all to afternoon tea, resplendent in our lounge suits and medals – wives appropiately attired. The Governor General, David Hurley, joined us and after introductions, chatted informally to most people for over 90 minutes.
Then we were off to the Vietnam Veterans Memorial on Anzac Parade for our service by our Padre, Arthur Fry. A Canberra Bomber flyover was on time at 1635 hours. 2 Squadron 'Magpies' were part of the 35th Tactical Fighter Wing and were tasked by HQ 7th Air Force in Saigon, for eight sorties per day for seven days a week, in all area of South Vietnam from 23 April 1967 until return to Australia in 1971. The Americans referred to the Canberra bombers as B57's. I may be wrong but do believe it is the only Canberra Bomber flying in Australia today. It is based at the Air Museum at Temora, NSW and this flight was co-ordinated by the RAAF – thank you RAAF.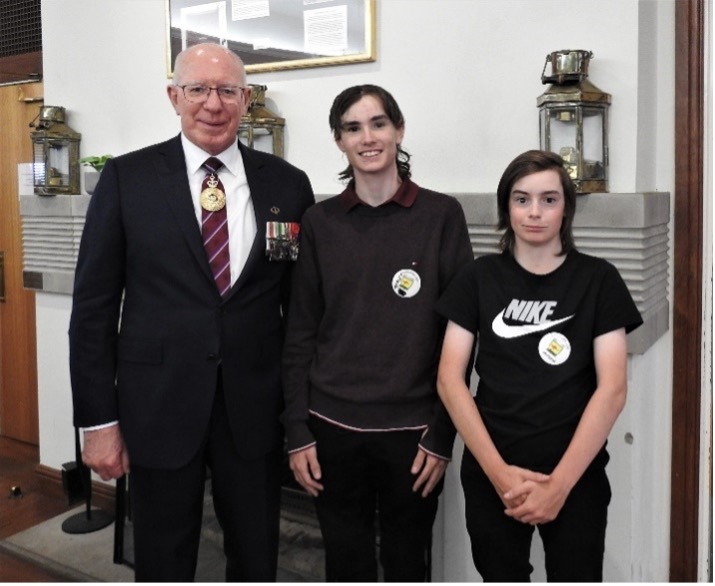 His Excellency David Hurley with Brian Harper's grandsons, Marley and Mason
Our service commenced by reflecting and commemorating our D & E Platoon losses at Long Khanh on 12 June 1971, during OPERATION OVERLORD. Bob Ellis from D & E Platoon was a survivor of the ambush and gave us a brief and emotional overview of the morning in question. Wreaths were laid in honour of the seven losses at Long Khanh, a further four wreaths laid in honour of the other four D &E soldiers killed during our period at Nui Dat, along with a wreath for D & E and a wreath for HQ1ATF. Doug Lawrence, from D & E Platoon also laid a wreath. Brian Harper delivered The Oath and the RMC Military Band Bugler played the Last Post. We then spent some reflective time at the memorial before the rain started and we were into our coaches for the third part of this emotional day.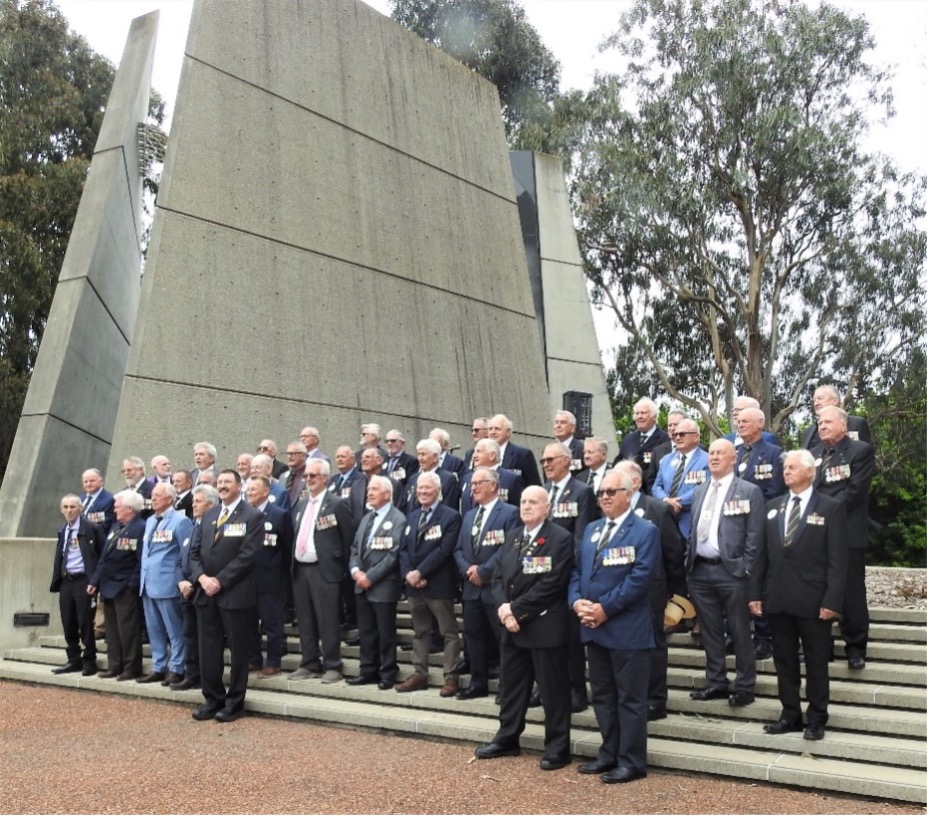 We had cocktails at the Members Restaurant at the Old Parliament House, followed by our Commemorative formal dinner, in the presence of our Patron, Dr Mike Kelly (Col, Rtd) and the Federal Minister for the ACT, David Smith. The RMC Military Band played throughout the evening, culminating in a Congo Dance and some Line Dancing by members and wives – remember we are in our mid to late seventies, and even older. A great conclusion to a memorable day and evening.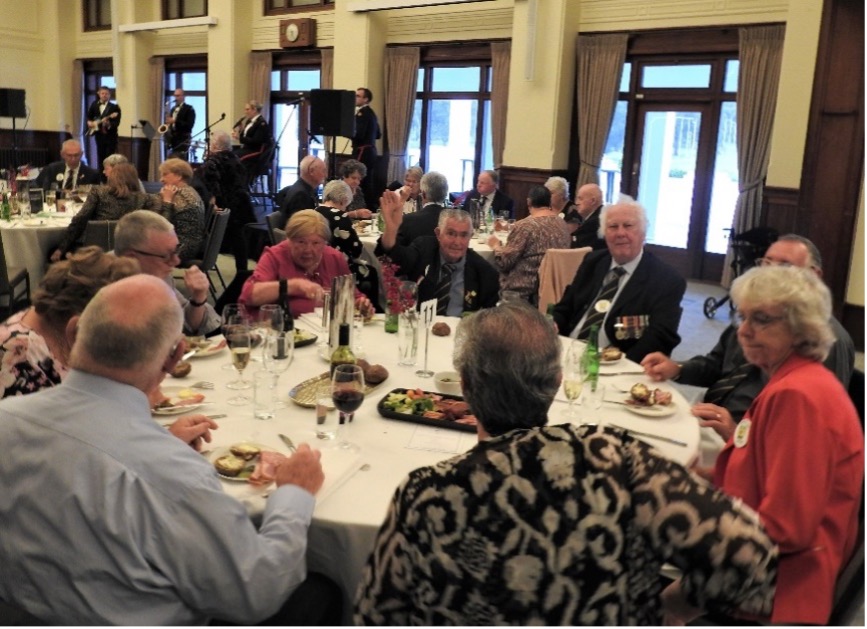 Sunday 20 November, most people were in the coaches for a tour of Canberra with a few rest hours in the afternoon. Cocktails, followed by a lovely dinner and some good sixties and seventies music by our own Steve Mahoney.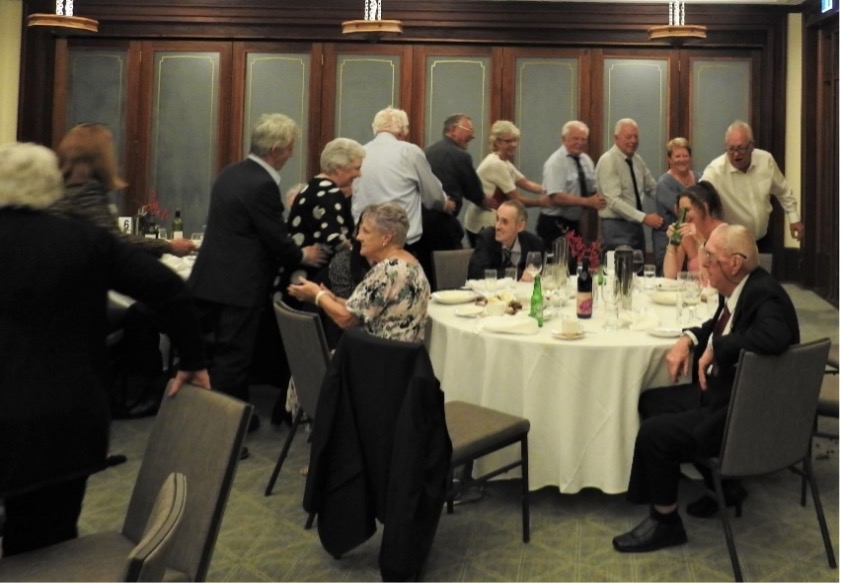 Next morning our breakfast, cooked by the Park Manager and then farewells were said for another two years. 2024 will revert to five days and details forthcoming as indicated above.
Reunion photos will be up on our website very soon. (www.hq1atf.org)